Why Pink is the New Black: Rocking the Spring Fashion Scene
Tis the season of Barbie, and pink is everywhere! It's time to elevate your wardrobe with this vibrant and playful colour. At Style Island, we've got trendy clothes that are not only fashionable but also wearable and of high quality, ensuring multiple uses. So, get ready to rock the spring fashion scene with our stunning pink outfits.
Flamingo Set - Embrace Vibrant Style
Are you ready to make a bold statement? Embrace vibrant style with our "Flamingo Set". Made from hot pink schiffli fabric, this set exudes playful charm. The intricate schiffli embroidery adds an artistic touch, while the relaxed fit ensures comfort on casual days. The coordinating pants and shirt create a stunning co-ord set that effortlessly combines style and comfort. Whether you're heading to a brunch or a day out with friends, the Flamingo Set will make you stand out wherever you go.
The Flamingo Set is designed with versatility in mind. The shirt can be paired with jeans or shorts for a more laid-back look, while the pants can be matched with a different top to create a completely new ensemble. With this set, you'll get multiple uses out of it, making it a great investment for your wardrobe. So, say yes to vibrant style and embrace the power of pink!
Pink Blossom Set - The Epitome of Feminine Charm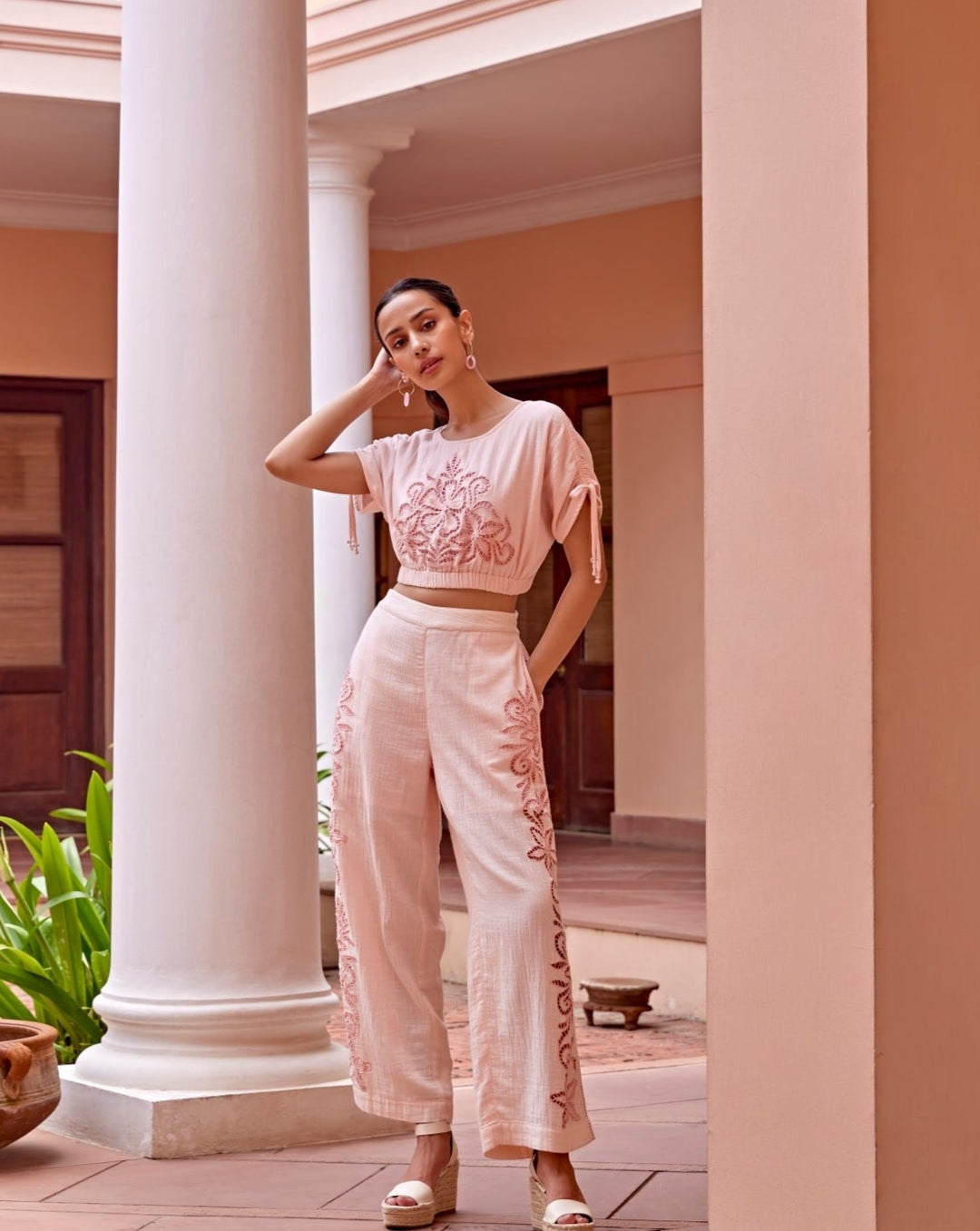 Indulge in the epitome of feminine charm with our "Pink Blossom Set". Crafted from a super comfortable and soft double gauze fabric, this loose-fitting baby pink top drapes effortlessly and offers a luxurious feel. The flattering silhouette of the co-ord enhances your figure, while the delicate cutwork embroidery adds an exquisite touch. The Pink Blossom Set combines comfort, elegance, and a hint of whimsical romance, making it a delightful addition to your wardrobe.
Whether you're attending a lunch date or a romantic dinner, the Pink Blossom Set is the perfect choice. Its soft and flowy fabric ensures maximum comfort, while the intricate embroidery adds a touch of sophistication. Pair it with heels for a dressier look or with flats for a more casual vibe. With the Pink Blossom Set, you'll effortlessly exude femininity and charm.
Andy Mini Dress - Elevate Your Style
Looking to elevate your style? Look no further than our "Andy Mini Dress". This stunning hot pink dress is a statement piece featuring intricate lace details and a flattering cinched waist. Crafted from luxurious georgette fabric, it offers a beautiful drape and a touch of elegance. Whether you're attending a special occasion or heading out for a night on the town, the Andy Mini Dress exudes confidence and captures attention wherever you go.
The Andy Mini Dress is a versatile piece that can be dressed up or down depending on the occasion. Pair it with strappy heels and statement jewellery for a glamorous look, or dress it down with a denim jacket and sneakers for a more casual vibe. With its vibrant pink colour and exquisite lace details, this dress is sure to make you feel like the belle of the ball.
Roseanne Poplin Dress - Embrace Grace and Beauty
Introducing the Roseanne Poplin Dress, a soft pink masterpiece. Adorned with delicate cutwork embroidery on the sleeves and hemline, this dress exudes elegance. Complete with a waist belt to elevate the style and crafted from soft, soothing Poplin Cotton fabric, it ensures both comfort and sophistication. Embrace grace and beauty with the Roseanne Poplin Dress.
The Roseanne Poplin Dress is perfect for a casual day at the mall or a lunch date with friends. Its soft pink hue and delicate embroidery make it a standout piece in any setting. Pair it with sandals and a straw hat for a summery look, or dress it up with wedges and statement accessories for a more polished ensemble. With its timeless design and flattering silhouette, the Roseanne Poplin Dress is a must-have for any fashion-conscious individual.
What are you waiting for? Elevate Your Wardrobe with Style Island
With our diverse range of pink outfits, you can mix and match to create endless possibilities. Choose the Andy Mini Dress for a night out and turn heads wherever you go. Opt for the Roseanne Poplin Dress for a casual day of shopping or a relaxed lunch with friends. The Flamingo Set is perfect for holidays and beach getaways, while the Pink Blossom Set adds a touch of whimsy to your lunches and dinners. At Style Island, we believe that fashion should be fun, versatile, and accessible to all. So, start rocking the spring fashion scene with our stunning pink collection.
Don't miss out on the opportunity to add some pink magic to your wardrobe! Visit our website to explore our fabulous collection. Get ready to turn heads and make a statement with our trendy and high-quality pink outfits. Elevate your style with Style Island today!